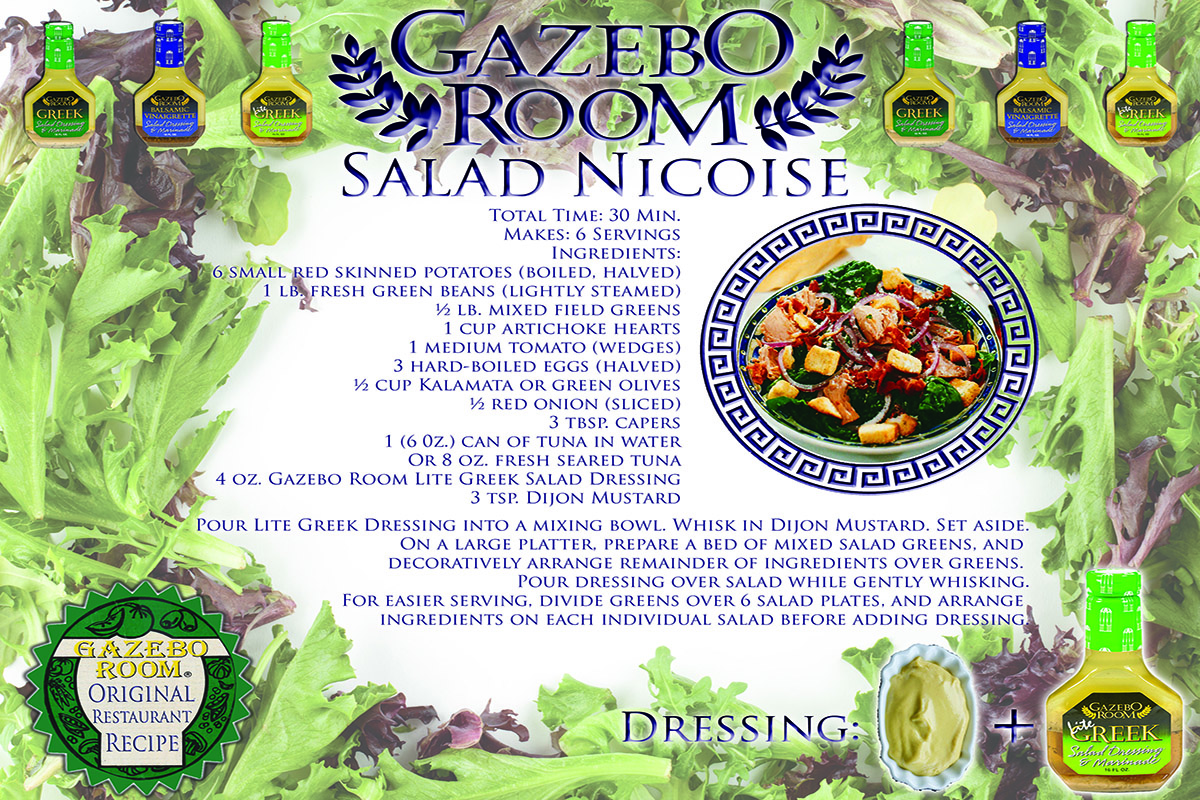 Gazebo Room Salad Nicoise
Find out why our recipe for Salad Nicoise was a favorite among some of Harrisburg's most famous residents! The original recipe called for our Greek dressing, but we highly recommend that you try the updated version with a mixture of our Lite Greek (which didn't exist at the time) and Dijon Mustard!
Total Time: 30 Min.
Makes: 6 Servings
Ingredients:
6 small red skinned or new potatoes (boiled, halved)
1 lb. fresh green beans (lightly steamed)
½ lb. mixed field greens
1 cup artichoke hearts
1 medium tomato (wedges)
3 hard-boiled eggs (halved)
½ cup Kalamata or green olives
½ red onion (sliced)
3 tbsp. capers
1 (6 0z.) can of tuna in water
Or 8 oz. fresh seared tuna
Dressing:
4 oz. Gazebo Room Lite Greek Salad Dressing
3 tsp. Dijon Mustard
Preparation:
Pour Lite Greek Dressing into a small mixing bowl. Whisk in Dijon Mustard. Set aside.
On a large platter, prepare a bed of mixed salad greens, and decoratively arrange remainder of ingredients over greens. Pour dressing over salad while gently whisking.
Notes:
For easier serving, divide greens over 6 salad plates, and arrange ingredients on each individual salad before adding dressing. If you would like to hear more recipes, you can ask about different Gazebo Room Dressing flavors, courses, or ingredients, like chicken, pasta, Seafood, vegetarian and more, or say exit to leave the skill.