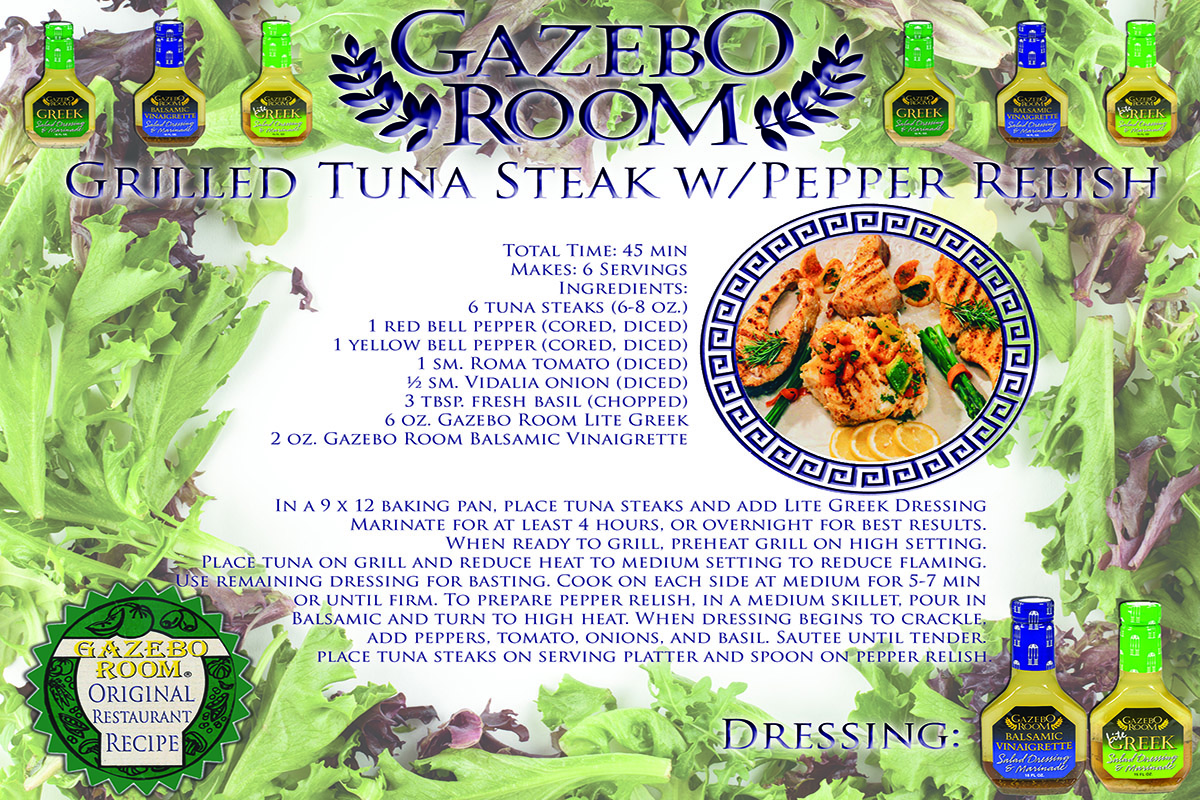 Here's an entree that really brings out the true potential of Gazebo Room as a marinade. The spicy pepper relish is a masterpiece in its own right, and as soon as you taste it, you'll think of several of your own dishes that it would work with.
Total Time: 45 min
Makes: 6 Servings
Ingredients:
6 tuna steaks (6-8 oz.)
1 red bell pepper (cored, diced)
1 yellow bell pepper (cored, diced)
1 sm. Roma tomato (diced)
½ sm. Vidalia onion (diced)
3 tbsp. fresh basil (chopped)
Dressing:
6 oz. Gazebo Room Lite Greek Salad Dressing and Marinade
2 oz. Gazebo Room Balsamic Vinaigrette Salad Dressing and Marinade
Preparation:
In a 9 x 12 baking pan, place tuna steaks and pour on Lite Greek Dressing. Marinate for a minimum of 4 hours. Marinating overnight will yield best results. When ready to grill, preheat grill on high setting. Place tuna on grill and reduce heat to medium setting to reduce flaming. Remaining dressing can be used for basting. Cook on each side at medium for 5-7 minutes or until firm to the touch. To prepare pepper relish, in a medium skillet, pour in Balsamic Vinaigrette and turn to high heat. When dressing begins to crackle, add peppers, tomato, onions, and basil. Sautee until tender. When Tuna Steaks are done, place on serving platter and spoon on pepper relish.
Notes:
*Equally delicious substitutes for tuna include Mako, Marlin, Salmon, Halibut, Swordfish, or any other fish steaks that will withstand turning over a grill. For flakier fish or fillets, a fish grilling basket will be necessary. If you would like to hear more recipes, you can ask about different Gazebo Room Dressing flavors, courses, or ingredients, like chicken, pasta, Seafood, vegetarian and more, or say exit to leave the skill.