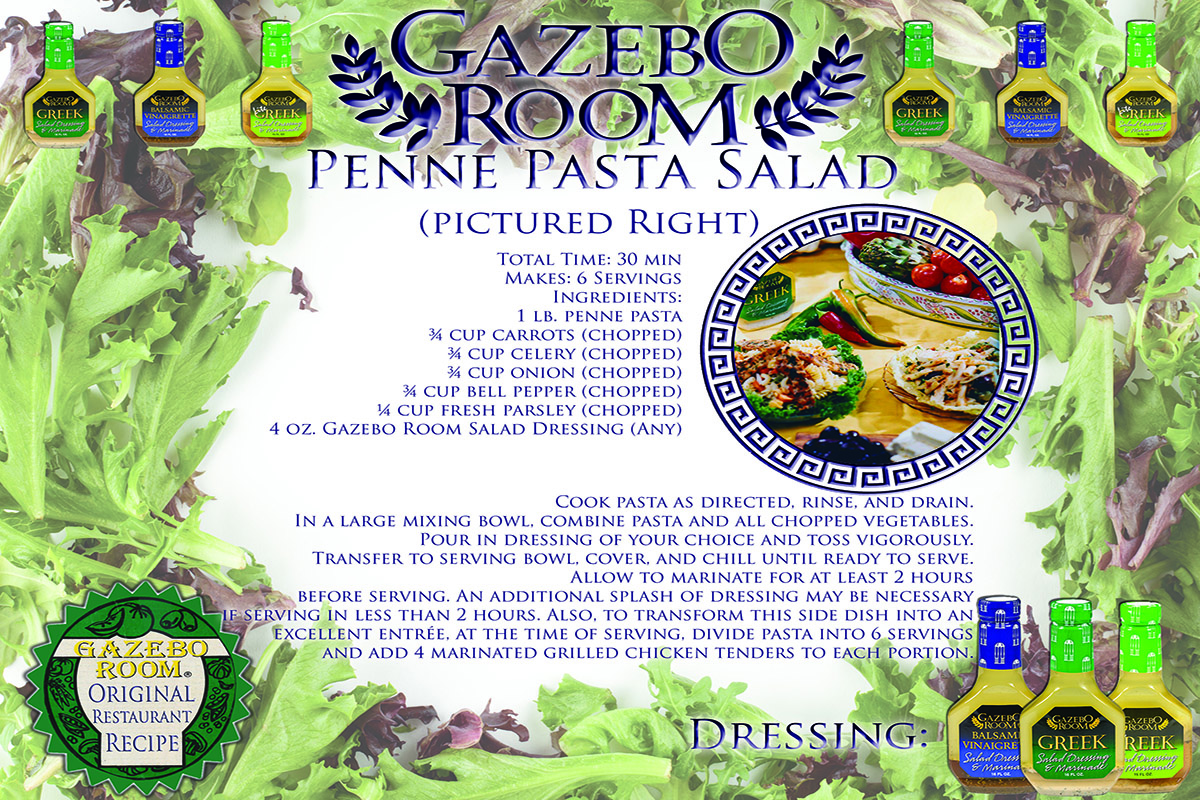 Gazebo Room Penne Pasta Salad 
A lighter version of our pasta salad, all you need is pasta, parsley and veggies to really let the Gazebo Room flavor shine through. For a special treat, separate into three portions and make one Greek, one Balsamic Vinaigrette and one Lite Greek!
Total Time: 30 min
Makes: 6 Servings
Ingredients:
1 lb. penne pasta
¾ cup carrots (chopped)
¾ cup celery (chopped)
¾ cup onion (chopped)
¾ cup bell pepper (chopped)
¼ cup fresh parsley (chopped)
Dressing:
4 oz. Gazebo Room Greek, Lite Greek, or Balsamic Vinaigrette Salad Dressing
Preparation:
Cook pasta as directed, rinse, and drain. In a large mixing bowl, combine pasta and all chopped vegetables. Pour in dressing of your choice and toss vigorously. Transfer to serving bowl, cover, and chill until ready to serve.
Notes:
Allow to marinate for at least 2 hours before serving. An additional splash of dressing may be necessary if serving in less than 2 hours.
Also, to transform this side dish into an excellent entrée, at the time of serving, divide pasta into 6 servings and add 4 marinated grilled chicken tenders to each portion.
If you would like to hear more recipes, you can ask about different Gazebo Room Dressing flavors, courses, or ingredients, like chicken, pasta, Seafood, vegetarian and more, or say exit to leave the skill.