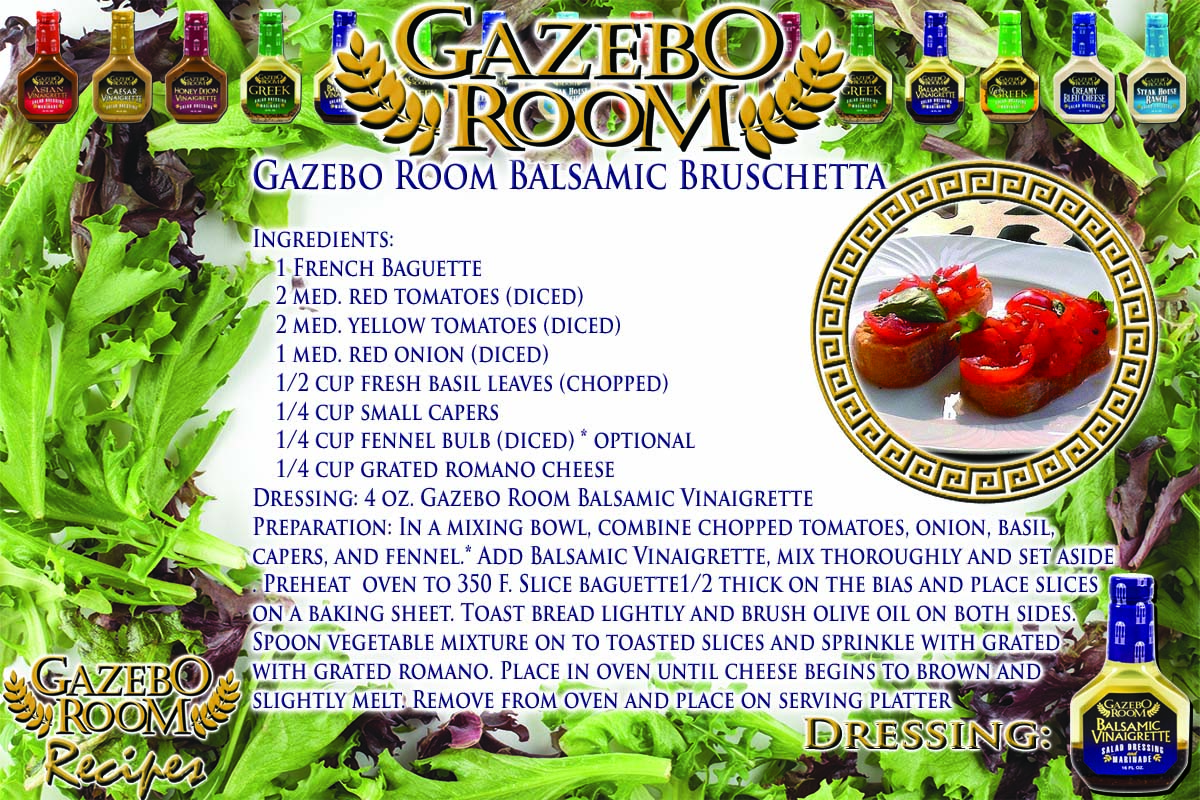 This Gazebo Room Bruschetta appetizer recipe adds a Greek twist to your Italian dinner…Just make sure that your guests don't fill up on bread.
Total Time: 30 min. Makes: 24 Servings
Ingredients:
1 French Baguette
2 med. red tomatoes (diced)
2 med. yellow tomatoes (diced)
1 med. red onion (diced)
1/2 cup fresh basil leaves (chopped)
1/4 cup small capers
1/4 cup fennel bulb (diced) * optional
1/4 cup grated romano cheese
olive oil
Dressing: 4 oz. Gazebo Room Balsamic Vinaigrette
Preparation: In a mixing bowl, combine chopped tomatoes, onion, basil, capers, and         fennel.* Add Balsamic Vinaigrette, mix thoroughly and set aside. Preheat  oven to 350 F. Slice baguette1/2 thick on the bias and place slices on a baking sheet. Toast bread lightly and brush olive oil on both sides. Spoon vegetable mixture on to toasted slices and sprinkle with grated with grated romano. Place in oven until cheese begins to brown and slightly melt. Remove from oven and place on serving platter.
If you would like to hear more recipes, you can ask about different Gazebo Room Dressing flavors, courses, or ingredients, like chicken, pasta, Seafood, vegetarian and more, or say exit to leave the skill.