Total Time: 45 min. Makes: 6 Servings
Ingredients:
3-4 lbs. fingerling potatoes (boiled, chopped)
4 scallions (chopped)
1/2 lg. red onion (thinly sliced)
1/2 cup fresh parsley (chopped)
*juice of two lemons
Dressing: 6 oz. Gazebo Room Greek or Lite Greek Dressing and Marinade.
Preparation: In a large mixing bowl, combine potatoes, scallions, onions, and parsley. Pour in dressing* and mix thoroughly, careful not to crush cubes. Refrigerate until ready to serve. Can also be served warm from microwave.
NOTES: *If using Greek dressing, it will be necessary to add lemon juice to potato salad before adding dressing. Although Lite Greek contains enough lemon juice per serving for flavor, more may be added to
Rate This Recipe!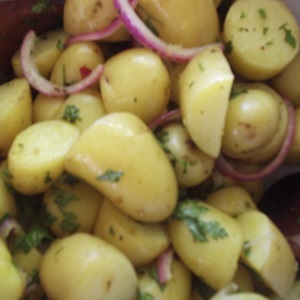 Recipe Name
Gazebo Room Greek Potato Salad
Published On
Total Time
Average Rating
Based on 11 Review(s)